The Art Cube
The Art Cube is a place where art and architecture come together. With the original living layout intact, this cube house forms the backdrop for the work of various artists. The art merges with the unimaginable forms of the interior and forms part of the house. The exhibited art is about Rotterdam or comes from Rotterdam artists.
The unique combination of architecture, art and contemporary life forms a total experience of the city of Rotterdam, accessible to young and old.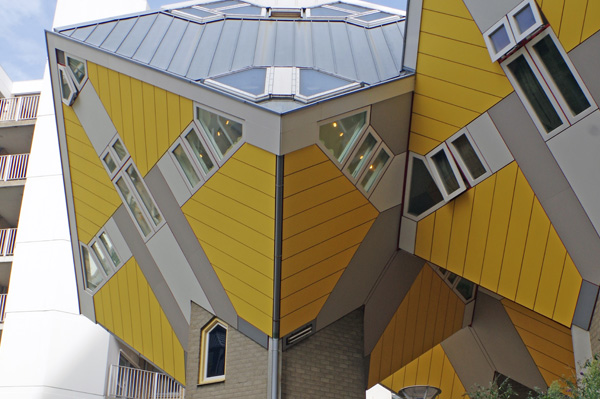 Hey what is this? Is this  a palace, or is this a funfair?
Piet Blom, architect Cube Houses
The Cube Houses
The Cube Houses in Rotterdam were built between 1982 and 1984 to a design by Dutch architect Piet Blom. The Cube Houses have the shape of a tilted cube on a pole. The complex consists of 38 cube-shaped pile dwellings and 13 cube -shaped business premises that are built on an overpass. The complex is officially called the Overblaak, but it is also known as the Blaakse Bos. This name refers to the vision of the architect, in which each house represents a tree and the total complex represents a forest.